Happy Ho Ho Jessica!
I am so excited to announce my Secret Santa match, Jessica from over at Jessie Kay Graphics and Design! She has a beautiful blog filled with beautiful photography, graphic design goodies and some really fun posts about books and movies and random fun! I really love her design aesthetic and her personality that she brings to her blog so I would totally suggest you go check her out and give her some love! (Plus her favorite color is purple and we all know how I feel about purple… hehe)
Check out her Facebook, Twitter, Pinterest and follow her over on Bloglovin and Deviant Art!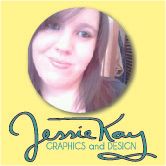 Hi Jessica!
*crazy Kermit arm wave*
I am so excited to have gotten the chance to meet you and discover your blog through this fun Blogger Secret Santa this year! I totally think we could be awesome friends if we didn't live on opposite sides of the country and now I have yet another blog I need to make sure I read!
For your virtual gift I decided to pull together a few things!
First, I created a little list of resources and links that I think you would really love!
~ dafont.com - some super cute fonts
~ Font Squirrel – some more adorable fonts
~ What to read next since you loved The Lovely Bones!
~ Draw a Stickman is an adorable game you will love!
~ The Animation Show – One of my all time favorite videos that will have you laughing SO hard!
~ Photo Pin – A great resource for finding Creative Commons photos for your blog posts
~ Dubstep Christmas lights video – No description necessary… lol
Secondly, I created a special Pinterest board just for you filled with fun images and links that I think you will love!
Finally, here is you as a zombie because you are woefully unprepared for the zombie apocalypse my dear.
hehe
I hope you have a very Merry Christmas Jessica and that you get some wonderful snuggle time with everyone you love this season!
PS: Don't forget to check out Jessica's awesome blog!!